Fed up with both not having enough money to buy the guitars I want and having to fight the urge to tear one down and rebuild it, today, 13 weeks into my attempt to learn to play the electric bass guitar, I will begin my first custom guitar project.
At around Week 3, I purchased this used Fender Squire Precision Bass for $60.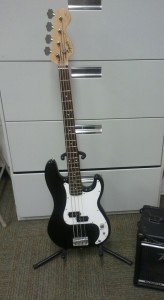 After getting it home, I partially disassembled it so I could clean it (it was filthy) and give it some new strings. While it was apart, I spray-painted the pickguard "Arrest Me" Red to give it some character. However, it still didn't sound all that great and I suspected that the factory Squire Indonesian-quality pickups were dying a slow death. So it went back into the gig-bag and into the closet, awaiting the day I had some time to work on it.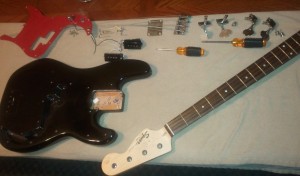 In less than 30 minutes, with two screwdrivers, I now have a pile o'parts that used to be an electric bass guitar. They're now bagged and boxed and today the removal of the old, chipped, scratched and dented black paint will begin.
I ordered and have read this book to give me some good tips on how to make my end result look like this

Since the author of the book repeatedly makes the case for using urethane paints (aka: what your car is painted with), and I can get it put into a spray can (along with a separate can of clear gloss) for a nominal fee, I decided to spray the new guitar in the same metallic silver color as my Ford Earthfucker (aka: Bull). Unlike a dark color, silver is easy to correct mistakes in. I'm not planning to fail, I just know I've not painted a whole lot in my life and am making the proper choices for that fact.
I don't believe that I'm yet up to the task of routing the guitar body for new pickups, I'll be sticking with the standard Precision Bass split style, but I'll be upgrading to the Seymor Duncan Quarter Pounders. I'll also be upgrading to the Full Contact Hardware bridge and getting new Fender open geared tuning machines. Since I'm not putting in a bridge pickup, the bridge itself, along with the tuning machines, will be finished in black chrome.
I'll update this post with an "after" photo later today when the sanding is done. Wish me luck (I'll probably need it).
UPDATE:
Sorry for the delay. It helps to post updates if you bring both your camera cord and the RNS URL to where you're doing the work.
Anyway…..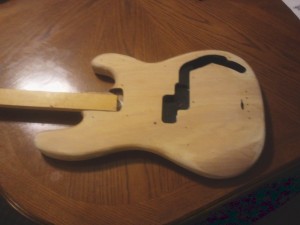 That stuff did not come off easily. Multiple sheets of 60grit and an electric sander and 3.5 hours. Went through the sealer in a couple places, so I'll have to take some 200grit and smooth those spots out and reseal it before I can prime it, but the hardest part is done.
I'm gonna see about paint today, so maybe next weekend we'll do some spraying.