My specialty pistols mentor Ernie Bishop went mule-deer hunting with his new 6.5 Leopard pistol built on a BAT action (drooool.)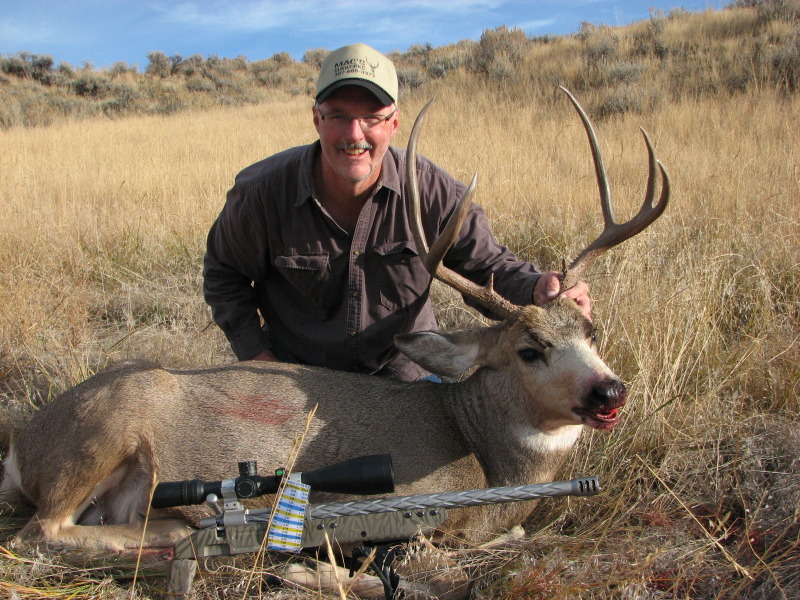 He says it was a "DRT [dead right there] Muley:" [click to embiggen]
I spotted this boy at about 550 yards away but had no place to make a shot. I thought he had his back to me and was not worrying to much about making myself small (which is difficult to do). I found a small alley way that would let the bullet fly free of brush, and wouldn't you know it, he had spotted me. I guess he didn't have his back to me the whole time after all. Just by the way he acted, I assume he had been pursued this season already. He was 430 yards from me, and disappeared going up a draw. I was hoping he would come out on top where I could see him. I pre-ranged the area I believed/hoped him to show up at. he didn't seem real spooked, so I felt like I had a chance.

I loaded the Leopard, set up and dialed 7MOA, set the parallax, and waited. Somewhere between 3-5 minutes passed when he showed up where I thought he would. I re-lasered him @ 496 yards. I st up and made the shot. I saw him go down in the scope. This is the third big game animal I have taken with the 6.5 Leopard specialty pistol that Mac's Gunworks built for me. The 130 Berger leaving the muzzle right at 3100 FPS is amazing to watch on game. Since I wanted to take pics I packed everything to the Buck. I packed out all the meat (deboned) plus all of my gear, but the Black's Creek pack once again handled it all well. It may have been 496 yards to the deer but there were several draws that caused me to burn some extra calories though   I have a couple of doe antelope permits, another buck antelope tag, and a elk tag. We will see if I get to all of them or not.
Congrats Ernie! I've yet to hunt anything myself, but these "horse pistols" as Rivrdog calls them will do just fine if you do your part.