Guerrilla style!
I found this on da internets.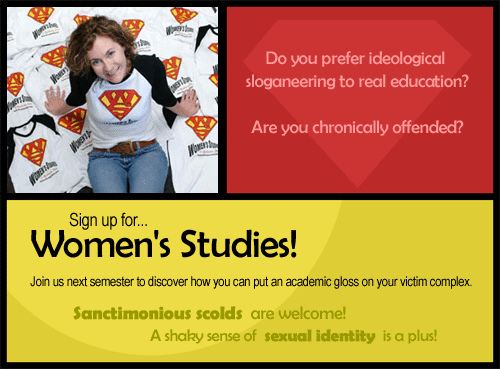 I'm very tempted to make a few 8.5×11 copies and place them on bulletin boards around campus in the early AM before anyone shows up.
Dare me?
UPDATE: Dare accepted!
Unfortunately, my college has no Wymins Studies department. The only thing listed in the catalog's "W" section is "Welding Technology" and I'm sure it would go over quite well there. But that is not the point.
However, OPPORTUNITY has arisen from the fires of my imagination.
Seattle Central Communist College is not too far from my work and sits on Broadway in Seattle's Capital Hill neighborhood. I am not known there. My visage being posted from any security cameras that I happen to not spot would raise no flags. It DOES have a Wymins Studies department. It is also the college that gives students class credit for attending protests. Most notably, the WTO riots of 1999. But any protest will do for them (except a Tea Party, unless you're counter protesting).
So, let me look into printing costs and then I'll give said print shop a couple of weeks to erase any security tapes they may record and I think I can camouflage myself in the native garb well enough not to stand out and see how it goes.
Anyone local want to join in the fun?
A couple questions from the comments: First, "Hate Crime"? Really? Is it the "Sanctimonious Scolds" that puts it over the top? And second, there is caution and then there is paranoia. It is a fine line but some folks walk right along it. This is a pasted handbill, not a Molotov Cocktail.