The "progressives" on the leftosphere are trying to cut off the debate over just how high of a tax rate is "too much" by coming up with the idea of providing taxpayers a receipt of sorts telling them where their tax dollars are going.
While not a complete list, the current example looks a little something like this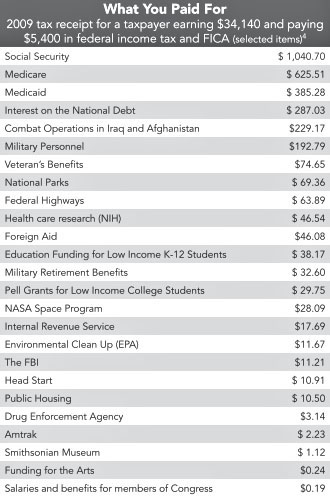 After I was finished laughing and filling myself to the brim with hope that someone in the current administration would take this idea and run with it, I decided to do the math for a Constitutionally mandated national budget.
First of all, we get rid of SSI, Medicare, Medicaid, the NIH, Foreign Aid, Low Income K-12 Education Funding, Pell Grants, the EPA, Head Start, Public Housing, the DEA, Amtrak, and Arts Funding.
I'd also be cutting the National Parks Budget completely because they're going to be selling some land to fund themselves for the next century or so, and then we'll see if they've brought their land holdings down to a reasonable size.
Secondly, we cut the IRS budget in half, since under a Constitutional system there would either be a national sales tax or a flat income tax and we could easily cut half the bureaucrats out of the process. Then we cut the FBI budget in half, because while they can be considered Constitutionally mandated, their scope is currently too huge to be justified.  Lastly, we cut the budget for the salaries and benefits for Congress in half. I don't need to explain this one, right?
What we now have left is all military operational costs (including NASA), the national highways budget, the Smithsonian and interest on the current national debt (because you can't change history).
Little bit of quick addition and we find that the average taxpayer's bill is now only $993.26 per year, or about 18.5% of their current bill. So, we'll add on a temporary doubling of the payment towards the interest on the national debt to try and get that paid off more quickly, and were up to $1280.29, or only 24% of the current tax bill.
So please, if you have a moment this week, call your representatives and beg them, in a sincere way, to make this list of where the tax money goes a reality.
The only way to wake people up how government wastes their money is to show it to them.