Forgot to mention in my discussion of house guns one of the most critical parts of our little "system," at least in terms of convenience: the Night Sentry. This is a very sturdy, heavy-duty piece of plastic that fits between your mattress and box springs, and provides a handy loop for a Mag-lite or similar flashlight, and a holster mount for your bedside handgun.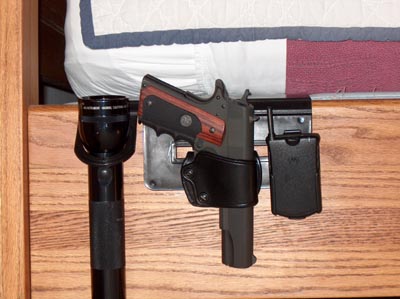 For folks with concealed carry permits, I suppose you would be able to pop your holster off your belt at night and slip it onto the Night Sentry at the side of your bed. Very slick.
This totally eliminates the problems attendant with storing your bedside handgun in, say, your nightstand drawer, where it can be scratched, covered up with books or magazines, or perhaps even (yikes) forgotten on your way out the door to work in the morning. This last is double-plus-ungood in a state like Kalifornia where you must keep your firearm either in a childproof place (i.e., locked up) or under your control pretty much all the time.
We've had ours since Christmas and I'm quite pleased with them. Perhaps just as important as the product is the customer service — the folks at Diamond are incredibly nice and very concerned with the quality of their Night Sentries. When one of ours arrived with a slight defect, they instructed me to return it and within two days provided me with both a brand new one and a check for my postage costs.