I'm sure the ropes will be plenty strong enough for you.
I'm planning on building a new porch for the hizzie in the not too distant future. Our current one is as old as the house and leans. I'm not actually sure if it was ever level. Also, it is small and just not attractive.
Since I'm a welder, I'm planning on making it out of steel. Mostly square or rectangular tube and channel. I've got most of a picture of it in my head, which is the first step to me starting a project. However, I've not been able to come up with how I want the trim to be. Last week I was given the lead in a project that, I think, has settled that question.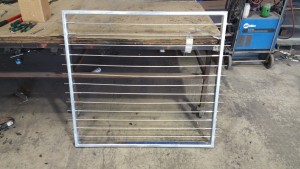 This is a gate. It is stainless rectangular tube with 1/4in cables strung across its span. The ends of the cables are swaged into the hollowed out ends of the bolts. After the bolts are tightened at each end, there is no movement of the cables (these ones have not yet been fully tightened, or had the excess threading cut off). The gate will be a lift out gate for a catwalk and have tube welded to the outside edges that will slip over either smaller diameter tubes or solid bar that will be welded to the catwalk.
I've already decided that the porch will be powder coated black and have synthetic Trex style boards on the walking and handrail surfaces, and now I know what I will have between the vertical points instead of some sort of pickets.
On a side note, I got handed this job because I had once mentioned swaging during a conversation about with reloading I had with a coworker. That, and my foreman figured I was one of the few in the shop who could make 104 swaged connections without getting my finger stuck in the machine.
And for those wondering where they may have heard this post's title and intro line before, remember Emo Phillips?