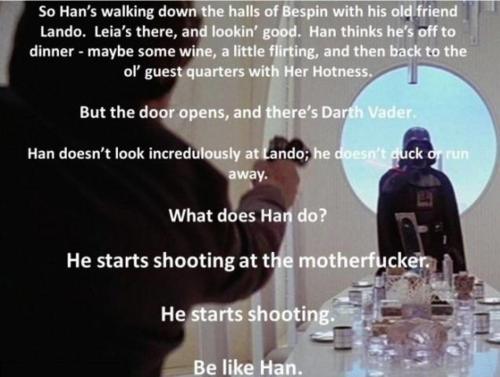 I have told this story before, but it has been a while so I think it should be retold.
When DVD for The Phantom Menace hit stores, I was unprepared for their marketing practices.
I was walking through one of our local mega-malls for some stupid reason or another. As I was making my way to one of the stores on my list I rounded a 90 degree corner and came face to face with a pair of fully clad and armed Storm Troopers less than 25 feet away.
I was already in what Colonel Cooper described as Condition Yellow, but being a GenXer, fully educated in the evilness of the Empire, seeing the pair of Imperial goons sent me immediately past Condition Orange and into Red. My hand swiftly went from my side and around the front of my coat to push it back so that I could access my pistol.
Thankfully, reason and sanity quickly ganged up on my fight/flight reflexes and intervened with my motor skills to tell me that these were fictional bad guys and to immediately stop that maneuver.
So, be like Han, just not with the bad guys in that particular universe.