Not everyone was happy with my "Watering the Hippies" meme from last week.
So, I'd like to just point out a couple items before things get warmed up:
First of all, for those who haven't been paying attention, this "sit and lock arms and refuse to be moved" tactic is exactly that: A Tactic. It has become SOP for the professional protesting left because it gets headlines. They either get pepper sprayed and complain about it or get separated by officers and complain about it. Think of it as martyrdom for socialists.
Other tactics include "getting arrested".
If you watch the video, you'll see that the organizers have lists of those who are supposed to be arrested at that particular protest. You'll also be able to notice that just because the protesters are seen walking away with their hands behind their backs does not mean they have been handcuffed. They've just been trained to do that.
Secondly, this was a large group protest. You are seeing about 25% of the total number of protesters in the video all over the TV. The line is actually a circle. Around the building. These protesters are blocking public access to public property on a public walkway. The police attempted to separate the protesters by hand and epic failed at that. Too many protesters and not enough police. This particular group had a "leader", and that leader agreed to let his group be pepper sprayed. See this video
He could have disbanded his protest or at least warned the group the spray was coming and that those who didn't want to get sprayed should leave. Instead he gave the OK and everyone was left to fend for themselves.
Third, when used on a crowd, pepper spray is not a "weapon", it is a compliance tool. It works like fucking WD40 for childish protest tactics. The effects wear off rather quickly. Watch the video and see some of the childish protesters less than an hour later.
You'd think that if they'd actually been in "excruciating" pain, they wouldn't be smiling about it shortly afterwards. They can do that because the organizers have set up pepper spray washing stations nearby. Usually, just outside camera shot.
Fourth, THESE ARE NOT CHILDREN. For fucks sake, people. These are no more "children" or "kids" than the gangbangers the CDC and Brady Bunch use in their statistics. These are full grown, adult human beings. Capable of making their own decisions as to their actions.
While I do feel sorry that no one seems to have taught them that actions have consequences, that is not my goddam fault. Sometimes the consequence to acting like a child when you're an adult is pepper spray. Get over it.
Fifth, While this was not explicitly a #OWS or Fleabagger protest, it was the same bunch from the FSA (Free Shit Army) that attends the #OWS camps. They want more government and, well, they got it.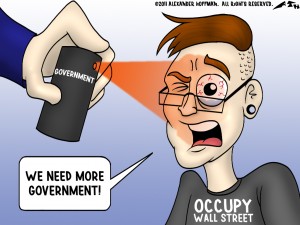 There are already calls coming from the Fleabaggers to have CS, pepper spray and all other compliance tools banned from college campuses. Doesn't that sound like a fun time!?! They are equating it with "torture". Here we go again. You should have seen some of my waterboarding discussions. They usually ended about the time I gave them the number to a local private club where they could pay to have a very leatherclad person (male/female, their choice) waterboard them. For some reason they would huff and walk away. I'm going to check and see about pepper spray at the club. I doubt it would be a problem. I've seen the gas masks used for other things.
Now, a review: Just because they act like children does not mean they actually are children. No one was harmed by the use of pepper spray at this protest. They are only being given what they asked for. They will do this again in the hope that more people will fall for the fake media outrage. This is actually NOT the coming of "the police state". If you believe that it is, you're about 20 years too late. Welcome to the party. No, I'm actually not worried about being pepper sprayed by police when it comes my turn to protest for my "cause". I'm not going to be protesting sitting down like a child who refuses to move.
Enjoy your day. Also, enjoy the meme.