For the past week and a half or so, I've been working on the same project at work.
To put it bluntly, it's huge.
Not in terms of physical size. More in the number of pieces.
If you take 30-20ft long pieces of 3/8in x 6in flat bar and cut them into 4in pieces, you get 1780 plates of 3/8in x 6in x 4in steel. If you stack them neatly on a sturdy pallet, they look like this.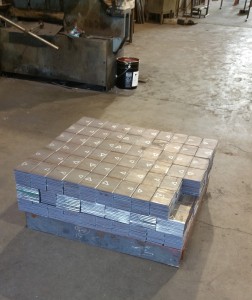 Next, you torture some poor pair of sods by telling them to deburr these pieces and then each make a jig so they can lay out a punch mark one inch in from the long side and three inches in from the short side. You then tell one of those poor sods to use the stud welder to attach a 3/8in wide x 1-1/2in long "wide head stud" to the plates where that punch mark is at.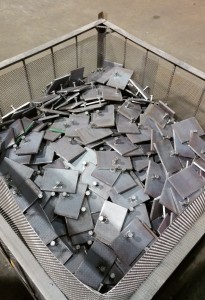 This is a partial bin of approximately 500 of these plates.
You ask the other poor sod to build a jig so that he can tack two pieces of 2ft long #4 reinforcing bar (1/2in diameter) to the plates after the studs get attached.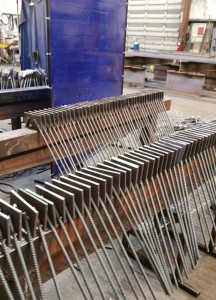 Then you get the guy with the rebar cert to weld those on permanently, and when the stud welding sod is done welding studs, you get him to take an air needler to the welds to remove the slag and spatter from the finished piece and stack them on a pallet to be sent off to a galvanizing facility.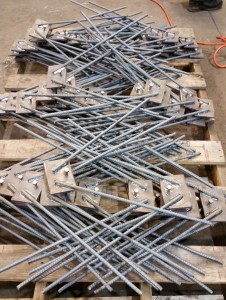 We're about 1300 into the project. Hopefully we'll be done by Wednesday or Thursday.
Just in time to start in on the other part of the order. 1410 pieces, of smaller proportions, but with two stud welded pieces of D-bar and only 1 piece of rebar (pics soon).
Apparently, there is a bridge being built in Hawaii, and they need a large quantity of anchors/embeds of two different types.
I bought one of those thick foam floor mats and brought it to work, because after the fifth nine hour day standing in the, relatively, same 3ft x 3ft square either deburring, transfer punching, or tack welding, you will want to remove your feet with an axe so that you will be in less pain.