…but I don't want to!
The Butte Fire has been devastating my adopted second home of Calaveras County. As it exploded, I made the two-hour drive from Livermore to the West Point area Thursday night for a very sad mission to photograph our second home/survival retreat for insurance purposes in the dark (power out). At the time I figured I only had a few hours; the roads were filling up with horse trailers running up from the valley below on volunteer rescue missions for all the horses in the area — my neighbors may have four or ten horses, but typically only a two-horse trailer. Rescued a pickup-bed-full of books, artwork, photos, electronics, some clothes. Left behind: thousands of books, half our ammo (in fireproof concrete safes, natch), all my non-business clothes, dishware, furniture, etc., and a very nice telescope.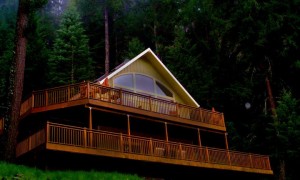 If the place survives the #ButteFire it will be a miracle, we'll see. When I left at midnight Thursday the fire was 3-5 miles away as the crow flies (probably 5-7 on the ground with topography). All day 9/11 and yesterday I listened to the scanner feeds with dread. Yet for our area, the danger seems to be about the same or a bit less right now; the fire's been spreading south and east and the dozer line above our house hasn't been approached — yet. I'll take that as a good sign but anything can happen. (Photo at upper left: our house. Photo below it: thought it was our house on social media but it's not, thank goodness. Sorry for whoever's house it was.)
This was my Rawles-ian retreat, the culmination of a decade's worth of thought and planning since I discovered www.survivalblog.com back in 2005.
—Earthquake-proof? Check. (No earthquakes in Skulls County.)
—Multiple year-round water sources including a year-round river? Check.
—Excellent strategic and tactical defensive possibilities? Check. (Located on a large bluff surrounded by deep river canyons; the house is deep within an interior subcanyon. Quarter-mile driveways in, easily covered from multiple locations and easily alarmed with those MURS-band perimeter alarms.)
—Fantastic like-minded neighbors? Check.
—Multiple avenues of egress off the bluff in different compass directions? Check. (Didn't think about a fire so big it could block all three of them).
–Luxurious Bay-Area-style interior with custom flooring and light fixtures, Sub-Zero appliances, etc., to keep the wife happy? Check.
—California license-to-carry-friendly sheriff? Check.
Second-biggest Sierra fire in history? Yeah, didn't quite get around to prepping for that yet.