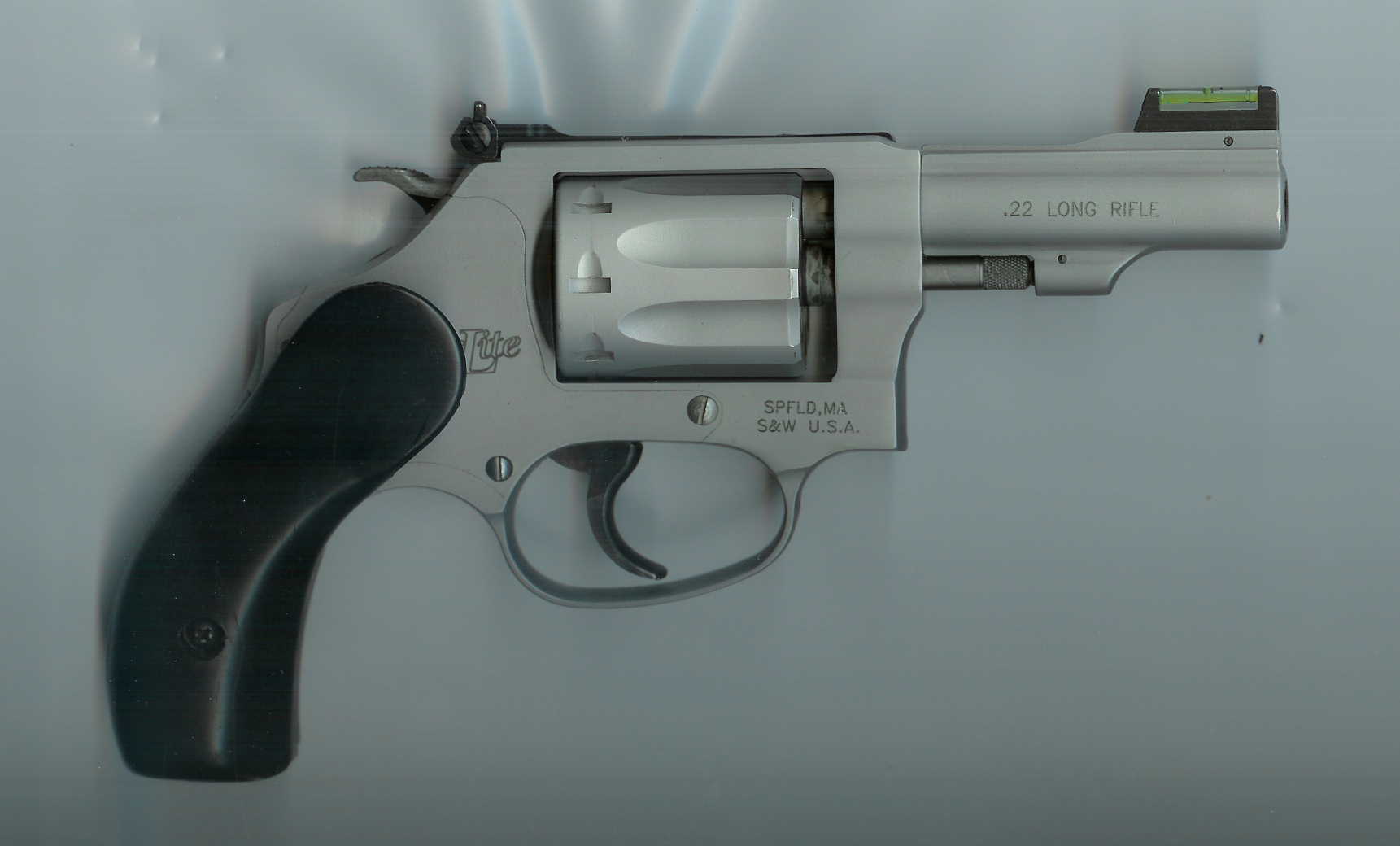 Ba-dum bump. (Do I get a No-Prize for Creative Use of a Halloween-themed Gun Pun? Anybody?)
Well, really. I mean, it's the twenty-first century, for crying out loud. You think I'm going after vampires with a hammer and stakes? Dude, that's so nineteenth-century!
No, what you need is some silver-coated bullets and a Model 317 AirLite Kit Gun from Messrs. Smith & Wesson. Dang thing's as light as a ghost!
Slip it under your waistband with the Barami HipGrip (shown), and it's light enough that even when loaded with a full complement of eight .22s, you can forget it's there. Not to worry; there's a cutout in the skeletal grip frame for a lanyard so you can hang it from your neck with your crucifix. And the light-gathering front sight sports that otherworldly green glow….
Note I mentioned silver-coated bullets. You don't want to melt down Grandma's silverware and pour it into bullet molds just yet! That's because the Kit Gun is in .22 rimfire caliber, which, although it will get the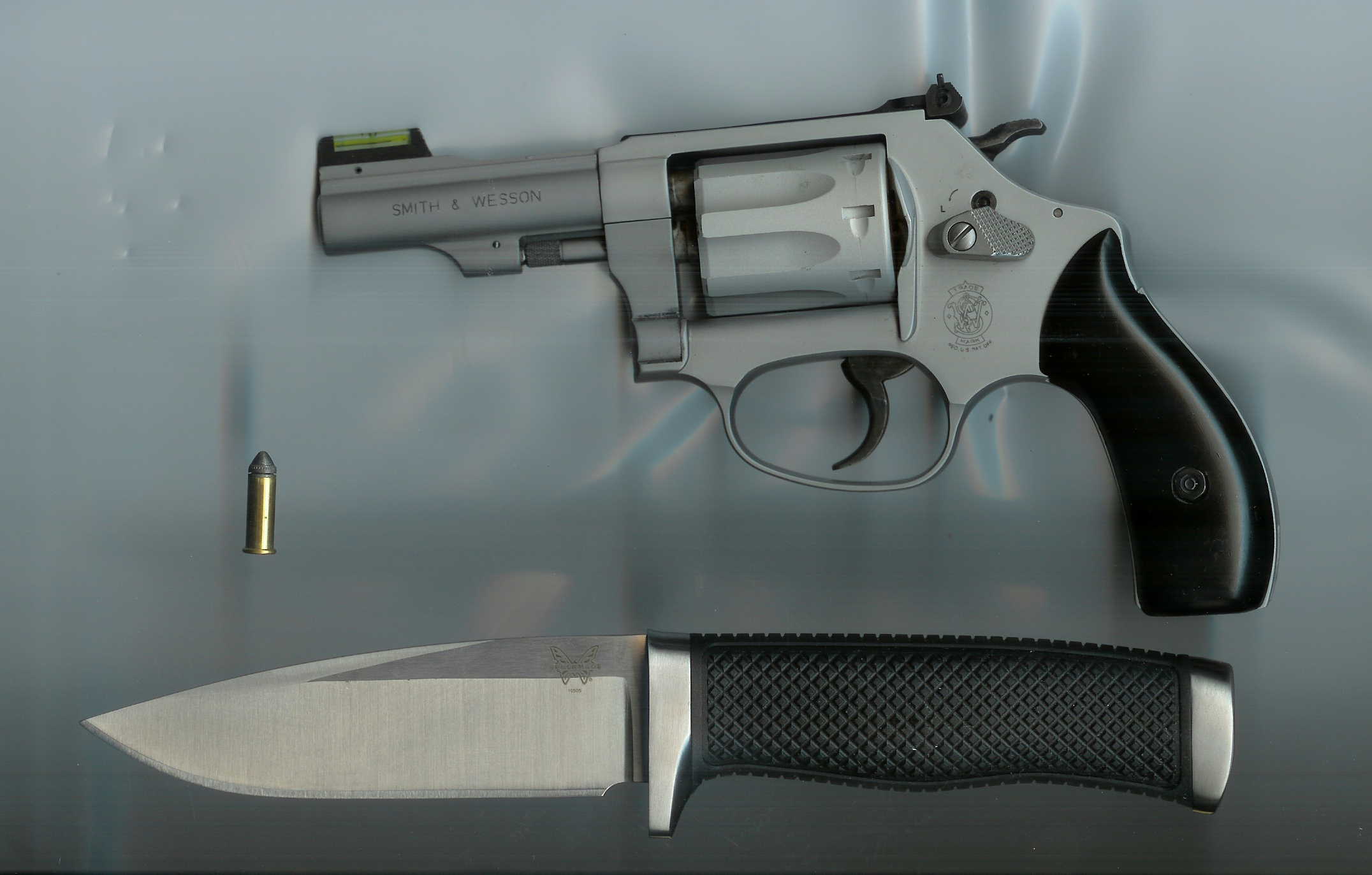 job done in a pinch even on the usual Goblins, is not a cartridge any sane person would try to reload. No problem — where vampires are concerned, even a little silver in the bloodstream's enough to do the trick, so you just need to dip your little lead pills in some molten Ag and you're good to go!
Of course, even old-timey vampire hunters made sure the deed was done by cutting off the head after they'd staked the heart. To finish the job, you'll need a knife, and the RNS Favorite Knife is up to the task. Shown above is the whole kit. Assemble yours today, before it's too late!
Range Report below the fold….
I bought the 317 back in late June, and as it happened my boss's 12-year-old son, who I'll call Raj, had just returned from Boy Scout camp depressed over his shooting skills. Like many Indian immigrant families of my acquaintance, his is full of overachievers, and he's no exception. So when his first time shooting proved to be a miserable failure, it put him in a funk. His mother asked if I would take him shooting to buck up his spirits a bit. As it turned out, he shot quite well with my little single-shot Sears Ranger .22, especially after I unscrewed the aperture sight to give him a "ghost-ring" sight picture. He liked that little rifle much more than the ones (Remingtons, he thought) at the Scout camp.
Anyway, I also thought I'd try Raj out on a couple of revolvers. He didn't like the recoil of the Ruger Security-Six, even with .38 target loads. I thought the 317 would be about right, but unfortunately his fingers were a little too long for the frame — he just couldn't get a good grip for a double-action pull. So he spent most of the time plinking by pulling the hammer back for each shot. That worked fine.
While Raj was on the rifle, I tried the 317 out myself for the first time. With standard Remington Gold FMJs, on single-action from a rest I could make little groups at 15 yards. The sight picture is really good with the fiber-optic doohicky — nice and bright, even in the shade. But the double-action trigger pull is ATROCIOUS. I remember when this gun first came out, some gunwriter made a snarky comment about a 12-pound trigger on an eleven-ounce gun. It stacks like a mofo, and on a gun this light that induces some serious muzzle wobble. 
If I'm being honest with myself, though, the trigger feels only a little worse than the heavy pull of my J-frame 940 when I bought it new. After about a year of dry-firing practice, it smoothed up just fine. I've got my work cut out for me, though.